The May Issue

Product Safety and Compliance.
Here's a preview of the articles you will find inside this month:
Learn the risks of Lightening Surge Damage to Ethernet and POTS Ports Connected to Inside Wiring.
Explore The People Process Behind the Product Compliance Process.
Discover the Benefits of CQC Certification for China.
Apply your knowledge from Decoupling Capacitor Design on PCBs.
Understand The Role of Product Instructions in Product Liability Prevention.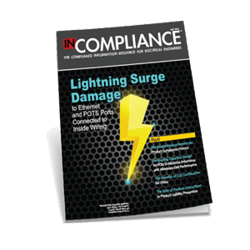 Plus, on the regular:
News in compliance

Reality Engineering

Technically Speaking

Product Showcase & Events

Dilbert! :)
Download the latest issue today!