The June Issue

Automotive Compliance.
Here's a preview of the articles you will find inside this month:
Understand the basics and challenges of

Electrical Vehicle Battery Pack Testing in a Manufacturing Environment.
FCC Expands the Role of TCBs in Equipment Authorization Regime
, what does it all mean?
Product level power quality monitoring -

New Voltage Sag Testing Requipments for Industrial Equipment.
An Overview of Automotive Vehicle and Component Regulations in China -

Keeping speed with testing requirements.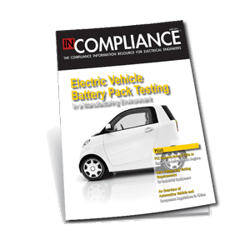 Plus, on the regular:
News in compliance

Reality Engineering

Technically Speaking

View from the Chalkboard

Product Showcase & Events

Dilbert! :)
Download the latest issue today!